What is the Average Cost of Food Per Person in Canada?
With general prices skyrocketing as of late,  it's no wonder that people are becoming more and more conscientious of their spending habits. This is particularly true when it comes to food. Canadians love their food, and we're not ones to skimp on quality or quantity. 
So, just how much is the average cost of food per person in Canada? Stick around to find out more about food prices in Canada as well as some tips to help you save money on groceries.
3 Mouth-Watering Food Cost Facts From Canada
Families in Canada spent an average of

$936.40 a month on food costs

in 2021. 

Ontario has some of the highest food costs

, averaging $217.07 per person in March of 2021.

62% of Canadians

eat out less often than before the pandemic.
Canada Food Statistics
1. In 2021, the
average grocery cost for one person
was $200.51 per month.
(Canada Food Price Report)
The cost of food per person will obviously differ depending on a number of factors, such as whether you live in a rural or urban area, how often you eat out, and the types of foods you purchase. But even the most frugal of eaters can expect to spend upwards of $150 per month on groceries.
In terms of statistics, the average cost of food has experienced a slight increase in recent years, rising from $196.20 in 2020 and $192.20 in 2019. Some of the factors driving this increase include higher food prices due to rising fuel costs, inflation, and supply chain issues related to the COVID-19 pandemic.
2. Families in Canada spent an average of $936.40 a month on
food costs
in 2021. 
(Canada Food Price Report)
The amount that families spend on food will depend on the family's size and other factors such as location and lifestyle choices. For instance, families living in rural areas with lower incomes might spend less on food overall, since produce and other staples are often more affordable when purchased directly from local farmers.
On the other hand, families in urban centers might spend a more significant percentage of their income on food because it can be more expensive to purchase groceries at big-box stores or restaurant meals.
3. The
average grocery bill in Canada
was $233.30 in March of 2021.
(Canada Food Price Report)
This number represents a slight increase from the previous month when the average bill was $231.60. The rising trend in grocery costs is likely to continue, especially as food prices are expected to rise significantly in the coming months due to inflation and supply chain disruptions as a direct result of the worldwide crisis.
4. Ontario has some of the highest food costs, averaging $217.07 per person in March of 2021.
(Canada Food Price Report)
These numbers are closely followed by Quebec ($210.73), Alberta ($205.70), and British Columbia ($202.50). All of these provinces have higher average grocery costs due to their larger urban centers, high population density, and proximity to the US border.
On the other hand, the Atlantic provinces tend to have the lowest food costs in Canada, with Newfoundland and Labrador averaging just $161.13 per person. This is likely due to the fact that these provinces have a lower cost of living overall, as well as access to cheaper seafood options.
5. 62% of Canadians eat out less often now than they did before the pandemic.
(Statista)
In an effort to stay safe and cut down on expenses, many Canadians have started to shift their spending habits and make more meals at home. A large percentage also reported switching to cheaper and lower quality brands (46%) as well as cutting down on essentials such as meat, fruits and vegetables (35%).
It's evident that the global pandemic is having a major impact on the way that we spend our money, particularly when it comes to our food purchases. It's unclear whether these changes will be temporary or if they will have a lasting effect on the average food cost per month in Canada.
6. In the fall of 2020, 9.6% of Canadians reported experiencing food insecurity due to financial constraints during the pandemic.
(Statistics Canada)
The food insecurity index indicates the availability and affordability of food to Canadian citizens. The math here is simple – the lower the index, the less affordable and available food is.
With that in mind, the way that the pandemic has impacted our economy has left many Canadians struggling to afford even the basics, including food. 
In contrast, the food insecurity index was 12.6% in the pre-pandemic period of 2017-2018. Evidently, the rise in food costs due to the pandemic has made it significantly more difficult for many Canadians to put food on the table.
7. 71.9% of businesses reported experiencing difficulties in the food supply chain during the first quarter of 2022.
(Statistics Canada)
Some of the leading disruptions in the food supply chain include increased delays in deliveries, product and supply shortages and increased prices of inputs. Experts are fully expecting these disruptions to continue, with additional difficulties in acquiring certain goods, such as fresh produce and meats.
Businesses are uncertain about how long these challenges will persist, and many are having trouble coping with the financial losses they have faced. This may lead to even higher prices for consumers in the coming months.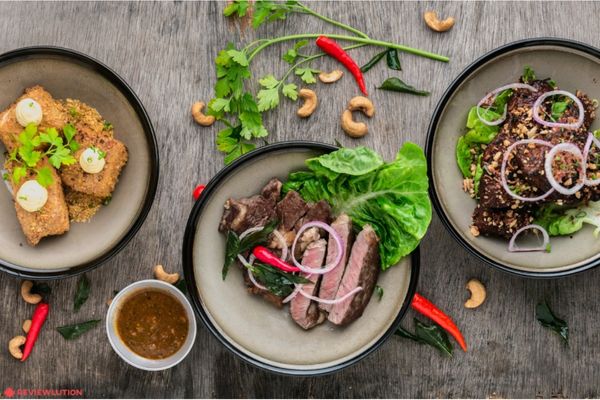 How to Budget for Groceries
As bleak as the current food climate may seem, there are still some ways that you can save money on your grocery bill and cut down on food costs.
Plan Your Grocery List
One of the best ways to save money at the grocery store is to plan your shopping trip in advance. This means making a list of everything you need and sticking to it when you're actually at the store, in addition to budgeting with an expense tracking app. 
You might feel tempted to reach for items that aren't on your list, so try to avoid going to the grocery store when you're hungry or on a tight schedule.
Shop Sales and Coupons
Some stores offer coupons or discounts on specific items, so it's always a good idea to check flyers or online sales before heading to the supermarket. You can also stock up on discounted groceries when your favourite products go on sale at the end of the month.
Buy in Bulk
You can often get a better value for your money by purchasing larger quantities of pantry staples, such as grains and nuts, or frozen meats and produce. Just be sure to check the expiration dates before you stock up, and always store food properly to prevent spoilage.
Earn Cashback
There are many credit cards, apps, and programs that can help you earn cashback or rewards points for your grocery purchases, so look into these options to see if any of them might be a good fit for you. Many of these programs also offer discounts on gas, so you can save even more money when you fill up your tank.
Finishing Thoughts
The current state of the food costs in Canada might not seem entirely promising, but there are still strategies that you can use to save money and keep your grocery bills under control. 
Despite the many setbacks and challenges we are facing, there's always a way to make things work if you put in the right amount of effort. You can maximize your savings and keep food costs under control by planning out your shopping trips, even during these difficult times.
FAQ
How much do groceries cost per month?
The average cost of food per person in Canada varies depending on factors such as geographical location, income level, and dietary choices. Generally speaking, you may expect to spend around $200 each month.