Top 10 Most Valuable Hockey Cards in 2023
Are you even Canadian if you don't like hockey? It's certainly one of the most thrilling sports ever. And what's a better way to show your enthusiasm and support than by collecting hockey merchandise and memorabilia?
If you want to tickle your collector's side and give it a go, we've put together a list of the most valuable hockey cards today.
Let's get into it!
The 10 Most Valuable Hockey Cards
Given the huge demand and limited availability, it's no surprise that the inherent value of hockey cards has skyrocketed in recent years. Here is our list of the best hockey cards that are worth money:
1. 1979 O-Pee-Chee #18 Wayne Gretzky Rookie Card
Estimated Card Value in Mint Condition: $465.000
Widely regarded as one of the greatest hockey players of all time, Wayne Gretzky's top spot on this list is well-deserved. With over 60 NHL records, he's definitely made his mark in the hockey world. This particular card features a young Gretzky donning his iconic Edmonton Oilers uniform.
By far the most basic factor that determines the value of each card is its condition. Are the edges worn out? Is the image blurry or poorly visible? These are the main considerations when determining the PSA grade of hockey collector cards. Admittedly, a Wayne Gretzky Rookie Card with a maximum grade of 10 is difficult to find, hence the hefty price tag.
It's clear that this card is dominating the most expensive hockey cards list, much in the same way Wayne Gretzky dominated the NHL championships at the peak of his career.
2. 1966 Topps USA Test #35 Bobby Orr Rookie Card
Estimated Card Value in Mint Condition: $204.000
Without a doubt, Bobby Orr is one of the most prolific hockey legends and perhaps the most revolutionary defender to ever play the game. With several championship trophies under his belt, swift movements and incredible tenacity, Orr's card is one of the most valuable rare hockey cards.
The card itself features brown borders on all sides which are, sadly, prone to chipping over time. Additionally, there should be a bit of space between his name and the bottom border for it to be considered authentic and well-centred.
Mind you, PSA has graded this card approximately 900 times so it's not scarce by any means. But given the constant demand and overall significance, it's certainly one of the best hockey cards to this day.
3. 1958 Topps #66 Bobby Hull Rookie Card
Estimated Card Value in Mint Condition: $175.000
A real scoring wizard, Bobby Hull was known for his blazing shot power and offensive abilities. His unreal career stats and fascinating style of play have propelled him into hockey stardom, ultimately resulting in two back-to-back MVP titles.
If you consider his contribution, it's not surprising in the slightest that he's got one of the most valuable NHL cards in history. They're quite rare too, with about 400 items being graded by PSA so far. 
Unfortunately, this card has a noticeable drawback, regardless of its assigned PSA grade. Its original positioning in the bottom corner of the 1958 Topps printing sheet resulted in poor centring issues, with some of them being as bad as 70/30. But even in the worst conditions imaginable, it's still worth a few thousand dollars at an auction or online bidding.
4. 1911 C55 Imperial Tobacco #38 Georges Vezina Rookie Card
Estimated Card Value in Mint Condition: $115.000
All of the cards in the Imperial Tobacco collection are amongst the first ones ever made, which is why they're ranking high in terms of their NHL hockey cards value. If you want to get into specifics, Georges Vezina is a name that has become synonymous with pristine goalkeeping and lightning reflexes. 
Even at the beginning of his career, Vezina held the highest goals-against average in the league, which is an admirable achievement. His talent continues to be recognized even today, as the Vezina Trophy is awarded to the best goalie in the NHL each year.
The card features an illustrated image of the young star, framed by two hockey sticks that are positioned upside-down. Given its age, this card in decent shape is definitely one of the rarest hockey cards worth money in recent years.
5. 1951 Parkhurst #66 Gordie Howe Rookie Card
Estimated Card Value in Mint Condition: $105.000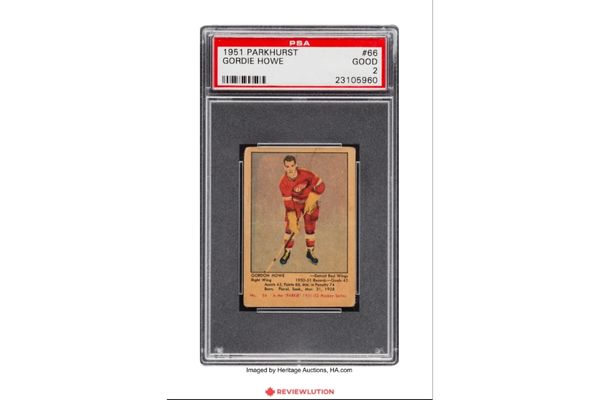 This long-standing Detroit Red Wings player has amassed 1.767 games throughout his career. Howe was part of the top 5 goalscorers for 20 consecutive years. These stats have undoubtedly contributed to a significant bump in his overall hockey card worth in this day and age. In fact, its value has grown by over 1.097% since 2004.
The original Parkhurst run featured a number of notable players but it's become notorious for its rough patch right from the start. Because of the way these rare hockey cards were manufactured initially, they're inherently quite fragile and susceptible to wear and tear. 
Namely, the sheets were stacked on top of each other before being separated all at once by a card guillotine. After that, they were randomized using a cement mixer to distribute them across different sets.
6. 1923 V145-1 #25 Bert Corbeau Rookie Card
Estimated Card Value in Mint Condition: $40.000
Despite never making it into the Hockey Hall of Fame, Bert Corbeau's Rookie Card is quite popular and valued in the sports community. Part of its appeal lies in the fact that it holds one of the biggest hockey card values, so getting your hands on one is a momentous accomplishment among avid hockey fans.
The scarcity of this set is mainly due to the way production and distribution were originally handled. The idea was to give a pair of ice skates as a reward to whoever managed to assemble the full set. To cut down on prize expenses, the manufacturer decided to limit the availability of Bert's card. As a result, lots of fans were unable to complete their collection. 
At the moment, there have been a total of 6 Bert Corbeau cards that have received a PSA grade. The condition of these old hockey cards isn't exactly pristine but it's an expected outcome given the circumstances surrounding their release.
7. 2005 The Cup #180 Sidney Crosby Rookie Card Autograph
Estimated Card Value in Mint Condition: $30.000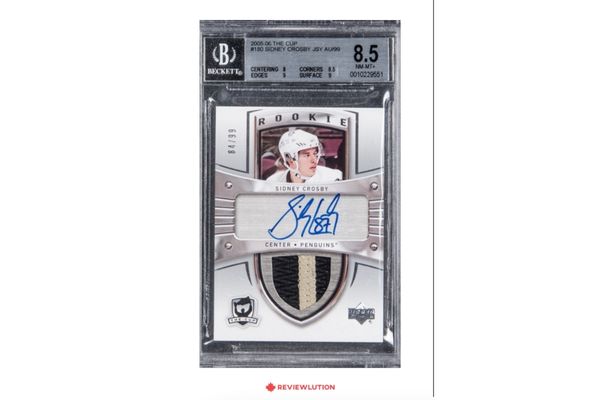 For Sidney Crosby fans, this is the ultimate addition to a collector's arsenal. It's a limited edition, with only 99 copies available, which makes it even more appealing. The two most notable features are the on-card autograph of Crosby himself along with a Pittsburgh Penguins jersey patch.
Due to their limited initial launch, they're extremely rare hockey cards and you probably won't see them at a random auction or sale. On the off chance they're actually spotted somewhere, they tend to sell out quickly because, well, who wouldn't want an authentic rookie card signed by one of the greatest hockey players of all time?
8. 1923 V145-1 #15 Howie Morenz Rookie Card
Estimated Card Value in Mint Condition: $25.000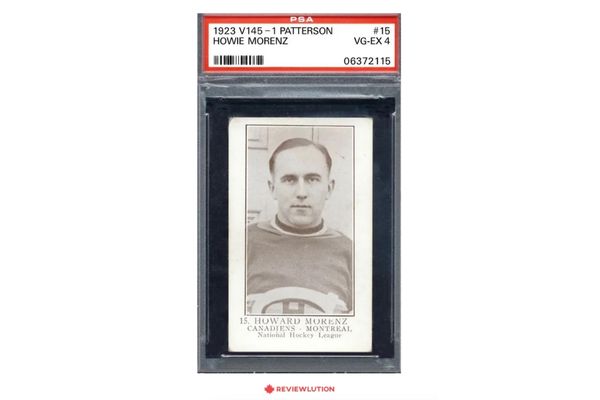 A true goal-scoring mastermind and skating professional, Howie Morenz is one of the league's first major superstars and Hall of Fame inductees. His quick and nimble feet allowed him to slip and slide along the ice effortlessly, eventually topping the scoring leaderboards one goal at a time.
This is widely considered to be one of the most valuable hockey cards in the set, trailing only behind Bert Corbeau's limited-edition copy. The image of a young Morenz in his distinct Montreal Canadiens uniform is displayed front and center for all to see. The overall design is topped off by plain white borders framing his face and creating a minimalist look.
Despite its lighter edges, this card is normally found in mint condition. Even if you do stumble across an unkempt version, the damage is likely insignificant and barely noticeable.
9. 1953 Parkhurst #27 Jean Beliveau Rookie Card
Estimated Card Value in Mint Condition: $22.000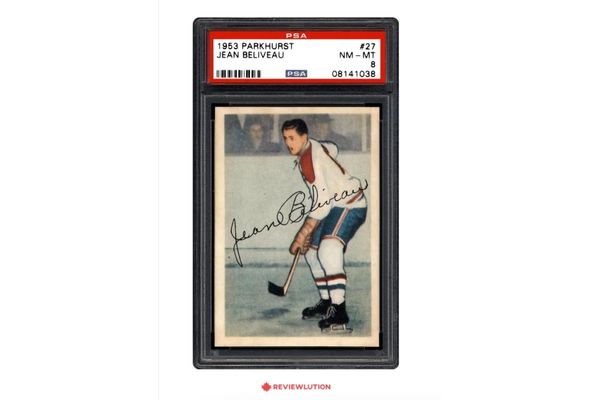 Naturally, an all-around perfect player like Jean Beliveau deserves a spot on the most expensive hockey cards list. A perfect blend of intense physicality, graceful movements and precise handling, it's no wonder that he is considered to be the prototypical hockey player.
This card in particular is part of those quintessential post-war collections, oftentimes fondly thought of as the most beautiful one in the history of the sport. The image shows Beliveau at the cusp of his career, wearing his signature Montreal Canadiens uniform.
In terms of durability, this card sadly faces some unfortunate circumstances. The edges get worn down and discoloured easily, which has a tremendous impact on its estimated hockey card price on the market.
10. 1924 C144 Champ's Cigarettes Howie Morenz
Estimated Card Value in Mint Condition: $18.000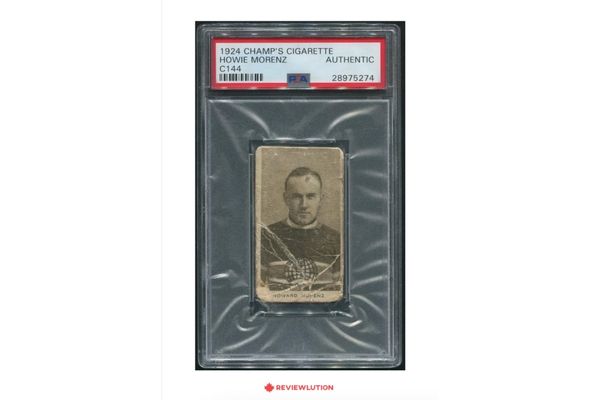 This particular card set is loaded with all-star hockey players. They were originally distributed alongside packs of Champ's Cigarettes, making them instantly accessible to the general public. Morenz is by far the most expensive hockey card in the set, which is why we're rounding off the list with the one and only.
The card itself is laced with sepia undertones and darker hues, in line with the printing traditions way back when. The design is quite simple, with light borders surrounding the image of a youthful-looking Morenz. 
On the back, you'll find a few interesting facts and career statistics which are pretty useful if you're looking to gather more information on your favourite players. Howie's card isn't exactly one of the rarest hockey cards, but you'll likely have to put in some work to find it in good condition.
Bottom Line
Evidently, the growing number of hockey card collectors has contributed to a steady rise in their respective market values. The order of the most valuable hockey cards will likely fluctuate in the years to come, as more and more sports fans try their best to complete their sets.