Canada's Last Resort: The Worst Province To Live in Canada in 2023
Have you ever wondered what is the worst province to live in Canada?
In this article, I go over the most notorious Canadian provinces and crown one as the absolute worst place to live in the Great White North.
Shall we begin?
What's The Worst Province to Live in Canada?
Before we talk about living standards, I want to highlight Canada's administrative geography. As a country, Canada is divided into 13 different political divisions, 10 of which are provinces, while 3 are territories.
The difference between these two administrative categorizations is purely constitutional. In this manner, provinces can exercise constitutional powers in their own right, whereas territories can only exercise delegated powers under the authority of the Parliament of Canada.
Nevertheless, despite the difference in their administrative categorizations, they are all treated as equal parts.
The photo above displays a map of the territories and provinces in Canada.
Though Nunavut is not officially called a Canadian province, it is, without a doubt – the worst place to live in Canada. 
Nunavut – The State of Rural Canada
Nunavut is the largest Canadian territory, comprising about a quarter (21%) of the entire Canadian territory. Simultaneously – it's the second least populous territory in Canada, with only 0.01% population density.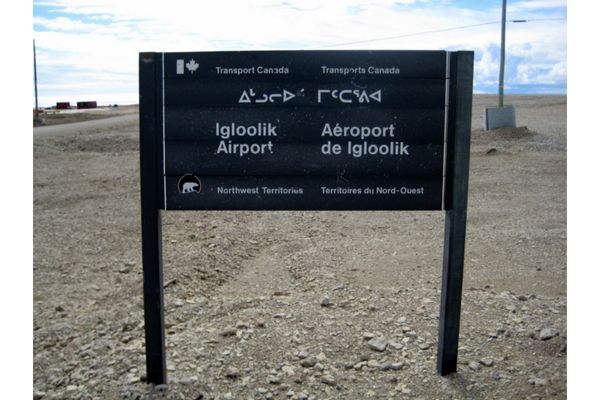 Nunavut is also home to the Inuits, which make up 85% of the entire population. Their traditional society with all the landmarks, food and native clothes is especially inviting for tourists, in the same way that Northern lights and extreme weather are. It's definitely a popular sight.
Nunavut is often referred to as "The State of Rural Canada", given how the Inuits are Nunavut's indigenous peoples. They're still closely tied to their ancestral habits of life and survival, such as meat harvesting, using fur for clothes, animal teeth and bones for various tools, etc.
Carvings and art contain a big part of the GDP of Nunavut, which is on the rise but is still low. In 2021, the GDP of the territory was 3.38 billion CAD, which is the second worse in the entire country, just after Yukon, whose GDP amounted to 3 billion CAD in 2021.
However, people still have to work in Nunavut. And mining is presently one of the largest private sectors in the area. Gold, copper and diamonds are currently the most mined resources, with zinc and silver also being present in the area.
At the same time, the cost of mining is one of the biggest issues faced by miners, primarily because of the Arctic ecosystem and the climate, but also due to the enormous expenses regarding machinery transport throughout the vast territory.
Fishing is another popular economy in the Nunavut region, but due to the climate and allocation of resources, it also has a lot of fluctuations, eventually leading to an unstable economy.
Why is Nunavut the Worst Place to Live in Canada?
Here are some of the reasons why Nunavut is the worst Canadian territory:
High Living Costs
The price of food and amenities, as well as Internet, is substantially higher than anywhere else in Canada. Additionally, going out for a drink can cost up to 6 times more than going out in an urban bar in Toronto. This is because taxes are up to 4 times higher than in all other Canadian provinces.
Expensive Flights
Nunavut is the most remote place in Canada. Its capital can only be reached by air, and life in Nunavut is divided into small and separate communities, which is why planes don't get crowded. This contributes to the significantly higher single-ticket prices compared to other popular Canadian destinations, especially during holidays.
Lack of Amenities
Sidewalks, parking ramps, elevators and special wheelchair accessibility features are barely present in Nunavut. This is mostly due to the fact it's covered in snow most of the year. Public transportation is also a big problem since the state doesn't have any.
So, aside from owning your own vehicle, there's really no option to travel around the county.
No Roads
Aside from the lack of public transportation, driving around with your own vehicle in Nunavut is also going to be a problem. Across the entire territory of 2 million square kilometres, only 850 kilometres are accounted for by roads. So, travelling by air is very expensive, while travelling by car is seriously inconvenient. A bit sad, eh?
View this post on Instagram
High Unemployment Rate
High unemployment rates within the range of 14% and 15% have been a standard that is continuously putting a black spot on the name of Nunavut. The most recent data proves that Nunavut is one of Canada's poorest provinces since there aren't that many long-term and stable working opportunities.
In addition, the population here is not properly educated for the job opening positions in administration, forcing the country to allocate human resources from other provinces to fill job positions.
Bad and Unpredictable Weather Conditions
Winters in Nunavut are long, with night lengths that can last up to nine months. Temperatures in the area during the winter are somewhere between -80 F and -90F degrees, making it excruciating to go out most of the time. On top of that, July is the only period of the year when it's not snowing.
While being a popular travel destination for adventure seekers around the globe, Nunavut is definitely one of the worst places you could choose to live in Canada.
What's The Best Place To Live In Canada?
The most popular and wealthiest provinces in Canada are, without a doubt, British Columbia and Alberta, which are also hailed as homes of the safest cities in all of Canada.
The breathtaking nature of both places is boosted by a strong economy and a diverse community, offering excellent schooling opportunities. And with much to do around, the crime rates among higher-educated Canadians are lower compared to other provinces.
The best place to live in BC is considered to be West Vancouver, the home of breathtaking scenes, forests and parks where you can rest or take long walks.
View this post on Instagram
The community is close-knit and friendly, and an abundance of activities and amenities keep the residents busy and entertained. West Vancouver is also a great place to raise a family, mostly because of the numerous daycare centers and excellent schooling facilities.  
Simultaneously, Beaumont is considered the best place to live in Alberta and one of the safest cities on Canadian grounds, with an average of only 40 incidents per 100K residents. With just a bit more than 20K citizens, this small town has a strong community sense and cherished traditional values of mutual existence and participation.
View this post on Instagram
The Impact of Covid-19 on Canadian Provinces
Since the Covid-19 pandemia stroke the globe, it has become an inevitable factor that has influenced the standard of living.
When it comes to Covid-19 and Canadian provinces, one of them significantly stands out as the worse.
Alberta is often hailed as the economic engine of Canada. But according to the Canadian Macdonald- Laurier Institute, this particular engine is sputtering due to the disastrous Covid-19 impact.
So what happened to Alberta during the pandemic?
Economic Factors
The net public debt of Alberta has increased significantly in 2000 and 2021, as well as the unemployment rate, which reached a high of 12%. However, the government protocols are stabilizing this sector, lowering the unemployment rate to 5% in 2022. Still, the Economic Misery Index due to Covid-19 in Alberta was the highest compared to other provinces – 79.89.
This number represents the economic fluctuations and changes in the province compared to the pre-Covid-19 situation.
Response Factors
You would expect such a wealthy province to be able to handle the spreading factors, such as stringency and vaccination spread on its population, easier than the rest, right?
However, with a Response Misery grade of 58.95, Alberta is among the Canadian provinces that failed to prevent the spread and provide enough tests during the heat of the disease.
Disease Factors
With a Disease Misery score of 77.3, Alberta is the second worse province regarding Covid-19 deaths, right behind Quebec. Since the strike of the disease to this day, 596,126 Covid-19 cases have been reported, whereas 4,673 patients have deceased.
As you may see, the Covid-19 pandemic had a disastrous impact on Alberta. Despite all, Alberta remains to be one of the best provinces for life in Canada.
What Are The Worst Places to Live in Canada?
Despite being internationally popular for our endless polite attitude, there are places in Canada where folks can't just sort things out with apologies.
These are some of the most uncomfortable and dangerous cities and places to live in Canada.
Quesnel, British Columbia
The average household income in Quesnel is $72,515, which is 12% lower than the national Canadian average of $82,436. But this is not the worst thing to drive you away from Quesnel.
View this post on Instagram
The crime rate is suffocating the entire population of 10,000. With a staggering rate of 372% above the national average level, harsh and violent crimes seem to be concentrated in Quesnel, BC. What is more, the city's Crime Severity Index is reaching 292, categorizing Quesnel as the city with the highest crime rate in all of Canada.
Despite the fact that employment possibilities are quite good in the place, around 26% of the entire population has no degree, diploma, or certificate whatsoever, which concludes they classify as a less paid and heavier workforce.
At the same time, Quesnel is one of the most affordable places to live in Canada, with cheap housing opportunities estimated at around 67% less than the national average.
Sarnia, Ontario
Despite offering many job opportunities in some of the chemical factories, the air pollution and health risks make Sarnia one of the worst places to live in Ontario.
View this post on Instagram
However, though the unemployment rate is only 7%, which is within the average, the interest in higher education isn't satisfying, considering that only 17% of the population has a bachelor's degree.
Serious crime offences tend to go down over the years, but Sarnia is still 10% above the average Canadian limits.
What's more, recent scientific surveys prove that children born and raised in Sarnia have a high tendency to develop asthma, making Sarnia one of the most dangerous cities in Ontario.
So if you want to avoid serious health issues, mostly related to air pollution and respiratory problems, you'd want to scratch Sarnia off your list.
Miramichi, New Brunswick
Something's definitely fishy with Miramichi. Despite the unemployment rate being 18% above the average – the household income is 17% below.
View this post on Instagram
If you're looking for a job in mining or fishing, this is the place to go. But beware of hostile behaviour towards outsiders!
Despite the fact that service jobs make the most of Miramachi's income, locals are awfully closed to modern-day living principles, especially when it comes to the LGBTQ community, given how citizens openly oppose any sort of support.
Despite being home to barely 18,000 residents, the crime levels are 68% higher compared to other cities in Canada. So if you're looking for a warm community, accepting of other cultures, Miramichi isn't one, for sure.
Dolbeau-Mistassini, Quebec
Located in the northern part of Quebec, this town doesn't even have 15,000 residents. This might be why the town lacks amenities like child daycare and enough regulated parking spots. Unfortunately, if you want to raise a family or children that need education, this is one of the worse options, given the subpar schooling institutions it offers.
View this post on Instagram
However, on a more positive note, Dolbeau-Mistassini has low crime rates – 43% lower than the national average crime rate, making it one of the safest places to live in Canada.
The paper mill in the city is a major employer yet a major polluter. Aside from the stench that is hard to adapt to, this also poses a threat to the health of the citizens.
However, if you're searching for a cheap place to live in Canada (18% less expensive than the average), with low-income workforce opportunities and a safe environment, you can check this out.
Check out this article to compare cheap places to live in Canada.
North Battleford, Saskatchewan
Rated as Canada's second most dangerous city, North Battleford has an overall criminality rate above 495%. Property offences and violent offences come at a rate of 503% and 495%, which significantly surpasses the national average.
View this post on Instagram
Yet, amenities and living costs are pretty decent, with the cost of buying or renting a house in this place being 72% less than elsewhere in Canada.
But with crime constantly on the rise, this rarely makes up for the low expenses, compared to the lack of a secure and safe lifestyle in the community.
What is more, the entire Saskatchewan territory has a history of being home to the most boring cities in Canada. Ottawa, for instance, was voted the most boring city in Canada once.
Thompson, Manitoba
The crime rates in this town of 13,678 people are 963% above the national average, which is how Thompson found its way the list of the most violent cities in Canada. Violent crimes are on the rise, and if you want to move here, note that there is a high probability you'll end up being a victim (1 in 3 people).
View this post on Instagram
Despite amenities being at a decent level, housing, rent, and the cost of living are just about 12% less than other Canadian cities.
This is not worth it when you calculate your winter bills, though. Temperatures here are literally freezing and go as low as -86 degrees Fahrenheit. Yikes!
Winters are boring and dull because you can't do much when the snow starts around October and lasts through the freezing temperatures.
St. John's, Newfoundland and Labrador
One of the worst cities to live in in Canada is the capital of Newfoundland and Labrador, mostly due to the unbearable weather conditions.
View this post on Instagram
Out of 365 days of the year, you'll end up spending 167 days enduring 0-degree temperatures. Interestingly enough, the cold isn't the worst thing about this place, given the humidity and the constant fog surrounding Thompson.
It's definitely giving off horror vibes, which resulted in suicide rates increasing respectively, despite the declining trend on a national scale.
The only comfortable months are July and August. So, unless you're okay with staying indoors for most of the time and not having many occasions and events to go out for, avoid moving to St. John's.
Iqaluit, Nunavut
With a livability score of only 55, the Nunavut capital is probably the worst city in Canada on our list. With a population of fewer than 9,000 people, there is not much to do in this dull town located in the poorest province in Canada.
View this post on Instagram
The entire territory of Nunavut is well-known for its high unemployment rates and high cost of utilities and life in general. Given how heating costs more in colder areas compared to Canadian regions with milder winters, you'll end up spending fortunes just to keep yourself warm.
Also, Iqaluit is a remote and isolated location, which can't be reached by cars or trains – only by air. This adds up to the cost of living there, not to mention organizing events and celebrations, when the only month it doesn't snow, is in July!
What Are The Most Dangerous Cities in Canada?
Canadians are some of the safest people in the world. But even in the safest of countries, there are dangerous areas.
Here are the top 10 most dangerous cities in Canada, according to the most recent global ranking by the Crime Severity Index (CSI), which takes the overall number of incidents into consideration, as well as the number of violent crimes.
Let's take a look at it.
| | | | | |
| --- | --- | --- | --- | --- |
| Canadian Rank/ Global Rank | City | Province/Territory | Crime Index | Safety Index |
| 1/50 | Surrey | British Columbia | 64.58 | 35.42 |
| 2/55 | Lethbridge | Alberta | 63.89 | 36.11 |
| 3/71 | Red Deer | Alberta | 61.75 | 38.25 |
| 4/72 | Kelowna | British Columbia | 61.56 | 38.44 |
| 5/81 | Sudbury | Ontario | 60.10 | 39.90 |
| 6/85 | Sault Ste. Marie | Ontario | 59.81 | 40.19 |
| 7/93 | Winnipeg | Manitoba | 58.93 | 41.07 |
| 8/116 | Oshawa | Ontario | 55.08 | 44.92 |
| 9/119 | Brampton | Ontario | 54.98 | 45.02 |
| 10/124 | Hamilton | Ontario | 54.53 | 45.47 |
According to these numbers, we can conclude that the majority of dangerous and violent cities in Canada are located in Ontario.
Wrapping Up
There are many good places in Canada you can choose to live in. Alberta and British Columbia are the most popular locations, while Nunavut is definitely not where you'd want to buy your next home.
The terrible weather, the higher cost of living, and the low density of population make it a territory you'd only wish to visit. And that's if you're an adventurous soul that doesn't mind travelling with expensive flights during storms and temperatures below 0 degrees.
FAQ
What province in Canada is best to live in?
Alberta and British Columbia are the best Canadian provinces to live in, considering all key factors, such as education, weather conditions, employment and the overall liveability score.
What is the saddest province in Canada?
The saddest province in Canada is British Columbia, where more than 20% of people consider life to be on a grade of 0-5, on a scale of a total of 10.
What is the happiest place in Canada?
According to the most recent satisfaction survey conducted by Statistics Canada, Newfoundland and Labrador is the happiest place on Canadian grounds.
What province has the worst economy in Canada?
Recent research grades show that though Nunavut has an unstable economy, depending on natural resources, Newfoundland and Labrador have the worst performance in the field of economy. This is mostly due to the negative changes in the field of labour productivity and unemployment.
What province has the highest depression rate?
Which province in Canada has the most millionaires?
While Ontario is home to the majority of Canadian millionaires, Alberta has the most millionaires per capita in Canada.
Check out this article to learn more about Canadian millionaires.
What's the worst province to live in Canada?
Considering all factors and overall liveability score, Nunavut is without a doubt, the worst Canadian territory to settle down.