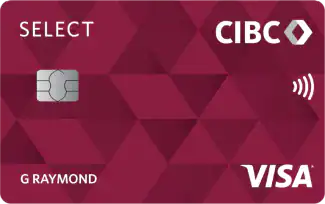 Annual Fee: $29
APR: 13.99%
Maximum Earnings Rate: None
Minimum Personal Income Required: $15.000 per year
Recommended Credit Score: Average to Excellent
CIBC Select Visa Card: Pros and Cons [Reviewed in 2022]
Wondering if the CIBC Select Visa Card is any good? Well, look no further because we've put together all the details, including interest rates, fees and potential benefits for you to consider.

Already intrigued? Let's jump right in and see if this card can live up to the hype.

Advertiser disclosure
This page may contain links to our partners' products and services, which allows us to keep our website sustainable. This means that reviewlution.ca may receive a compensation when you sign up and / or purchase a product or a service using our links. However, all opinions expressed in this article are solely ours, and this content is in no way provided or influenced by any of our partners.
Annual Fee: $29
APR: 13.99%
Maximum Earnings Rate: None
Minimum Personal Income Required: $15.000 per year
Recommended Credit Score: Average to Excellent
Low interest rate
Strengths
First-year annual fee waiver
Great welcome offer
User protection and fraud alerts
24/7 customer support
Low interest rate
Reasonable eligibility requirements
Weaknesses
Annual fee
Balance transfer limits
No additional perks
Overview
The Canadian Imperial Bank of Commerce (CIBC) is a multinational banking service with a headquarters in Toronto, Ontario. It boasts 44.000 full-time employees and provides to over 10 million clients across the globe. As of 2020, its overall market cap has surpassed a staggering $44.4 billion, becoming one of the dominant banking services in the world.
Given the large number of CIBC credit cards at their disposal, customers have the freedom to choose one that matches their needs. Among potential contenders, the CIBC Select Visa Card is a popular choice due to its low-interest rate and promising welcome bonus.
Main Features
The standout feature of the Select Visa is its low interest rate on purchases, balance transfers and cash advances. This allows you to cut down on your expenses when using the card for online purchases as well as contactless payments in grocery stores.
In addition, if you link up your card with Journie Rewards, you can save up to 10 cents per litre of gas at participating Pioneer, Fas Gas, Ultramar and Chevron stations. Once you do, you'll earn up to 3% cashback on eligible purchases along with redeemable Journie points.
You can also save up to 25% on car rentals at participating Avis and Budget locations across Canada whenever you pay with your CIBC Select Visa Card. This is particularly useful for avid travellers who are in frequent need of a rental.
Generally speaking, the maximum CIBC transfer limit for a 24-hour period is $3.000 and $10.000 for a 7-day period. There are no minimum requirements for transfers, you may send as little as you'd like.
If you want to increase your CIBC credit limit for more spending power, you can do so by contacting customer service, either by calling the number on the back of your card or accessing the online banking system to send a request. Keep in mind that your credit limit might not be increased immediately since it takes time for the bank to approve your request.
Additional Perks and Benefits
Once you sign up for the card, you'll immediately receive a welcome bonus in the form of a CIBC balance transfer. This allows you to allocate your funds with a 1% transfer fee and 0% interest for up to 10 months. When the promo period ends, you'll be subjected to the standard 13.99% interest rate.
Moreover, the CIBC balance transfer offer includes a first-year annual fee rebate, which means you'll be granted relief from paying the annual fee for the first 12 months. The annual fee is applied to members that have had their card for upwards of a year.
If you want to link more cards to your account, then you'll be pleased to hear that there's no annual fee in place for up to 3 extra cards. You may use this to your advantage by transferring funds to your other cards and lowering the overall CIBC credit card interest rate in the process.
All cardholders receive $100.000 Common Carrier Accident Insurance, which protects both you and your family when travelling. If you want to be extra safe, you may choose to add additional insurance plans, such as the CIBC Emergency Travel Medical Insurance to help you out whenever you're in a crisis, or CIBC Payment Protector which offers useful credit card insurance in case it gets stolen or lost.
Rates and Fees
Now it's time for everyone's favourite part – how much you're expected to pay after all the CIBC credit card balance transfer offers and grace periods have come to a close. As previously mentioned, all cardmembers have to pay the annual $29 annual fee in order to use the card.
The standard CIBC transfer fee remains at a decent 1% throughout your membership. The standard 13.99% fee applies for the CIBC purchase interest charge as well as the cash advance APR.
These numbers are somewhat lower in comparison to other cards of the same ballpark, such as the RBC Cashback Mastercard which has an APR fee of about 19.99% to 22.99%. Needless to say, you'll be saving up some extra cash if you decide to go for the Select Visa Card.
And, lest we forget, the minimum CIBC credit card cash advance fee totals at $5. The interest rate on cash advances is once again 13.99% but if you fail to meet the due dates, you'll be subjected to a regulatory penalty APR of 19.99%. Seeing as this is a fairly high percentage, it's best if you avoid penalties by paying off what you owe in due time.
Eligibility
In order to have your CIBC Visa application approved, there are several requirements that you're expected to meet. Firstly, you should be a permanent Canadian resident that has reached the legal age of majority in the province or territory of residence.
Secondly, you're expected to have an annual household income of at least $15.000 per year. And last but not least, the credit score needed for a CIBC Visa Card is at least 660. In other words, it should be either average or excellent for you to become eligible to apply.
These requirements aren't necessarily difficult to meet, given the fact that there are plenty of credit card applications that require additional terms and conditions to be fulfilled. One such example is the Capital One Savor Card, which has a set of strict eligibility regulations.
User Reviews
If you take a closer look at CIBC reviews on websites such as Trustpilot or TrustRadius, one thing that stands out is users' praise for the low-interest rates and annual fees. Cardholders are also pleased with the overall flexibility, given that the Select Visa is one of the easiest cards to obtain across Canada and may be used for a variety of purposes.
Moreover, customers are quite pleased with the number of benefits they've received. Whether that's shopping at partnered grocery stores or renting discounted cars, members are able to save up on quite a bit of money when paying with their Select Visa by the CIBC.
On the flip side, the general score of the CIBC Select on amazon.ca is 3 out of 5 stars, with users listing credit card application delays as the main issue. Some applicants were forced to wait several weeks before receiving a response from the bank itself on whether or not their status has been approved.
Want to Consider Other Options?
CIBC Select Visa Card vs Stack Mastercard
Following in the budget-friendly credit card footsteps, the Stack Mastercard also offers users admirable benefits. The first and perhaps most appealing one is the fact that there is no annual fee or APR required, which is an immediate bonus, regardless of what you're looking for.
Much like the CIBC card, Stack Mastercard offers a range of discounts and bonuses when shopping at select retail merchants and partner companies. A few notable mentions include Spotify, Netflix, The Body Shop, Tim Hortons and many more.
However, there are two major downsides to this card – there's no cashback feature or credit build-up over time. Additionally, you're allowed to have only 2 ATM transactions per day which, in all honesty, might not even be that big of an issue for most Canadians because who even uses the ATM that often anyway?
CIBC Select Visa vs MBNA Amazon Card
Once again, we have a credit card contender with no annual fee, which definitely sets it apart from its competitors. Unlike the CIBC Select, there are no minimum personal income requirements so you don't have to worry about whether or not your earnings meet the eligibility criteria.
Another feature that's quite tempting for users is the complimentary Amazon discount on online purchases. Prime members have a bit of a head start with 2.5% on eligible Amazon payments, whereas standard users enjoy a 1.5% discount on their purchases.
The main disadvantage here is the somewhat higher APR, which can go anywhere from 19.99% up to 25.99%, depending on the service. So basically, even if you save up on annual fees, you'll still spend a good portion of your savings on APR. But hey, you win some, you lose some, right?
Final Verdict
All things considered, the CIBC low-interest rate credit card is certainly worth considering. Its affordable APR and the 0% introductory balance transfer offer have turned the card into one of the frontrunners of the race.
This particular card is a good fit for those of you that are looking to settle your credit card debt and monthly interest payments. Whether or not the lack of extra features is a deal-breaker or not, it's entirely up to you.
FAQ
How to activate the CIBC credit card?
There are two main ways you can do this – either call the CIBC customer service directly or use CIBC online or mobile banking app to enter your details.
How to pay CIBC credit card balance on app?
Simply log into your CIBC account on the mobile banking app, select 'bill payments' and enter your account and personal information. Once you're done, you'll receive a verification code before submitting your payment.
What is the purchase interest at CIBC?
This is the interest that you're charged for each payment you make. More specifically, the interest rate for the CIBC Select Visa Card is 13.99%.
How to pay CIBC credit card balance online?
Log in to your account on the CIBC website, go to the 'bill payments' section and enter your account number. Your credit card balance will be paid off when you enter the verification code you received via text.