Minimum Deposit: None
Commission Fee: Variable, depends on the stock price
Account Options: Good
Access to Financial Advisors: Yes
Customer Support: Email, Phone, Mailing Address
Qtrade Review: Pros and Cons [Reviewed in 2022]
Are you looking to dip your toes into the world of online trading and investing? Since online brokerages are trying to outperform each other, Qtrade Direct Investing has generated a fair amount of buzz.

You've got all the information you need in this Qtrade review.
Advertiser disclosure
This page may contain links to our partners' products and services, which allows us to keep our website sustainable. This means that reviewlution.ca may receive a compensation when you sign up and / or purchase a product or a service using our links. However, all opinions expressed in this article are solely ours, and this content is in no way provided or influenced by any of our partners.
Minimum Deposit: None
Commission Fee: Variable, depends on the stock price
Account Options: Good
Access to Financial Advisors: Yes
Customer Support: Email, Phone, Mailing Address
Innovative Educational Resources
Strengths
User-friendly interface
Simple and easy registration
30-day free trial
Extensive portfolio overview tools
Innovative educational section
Quick access to different markets
Weaknesses
Account maintenance fees
Only available in Canada and the US
Inactivity fees
Overview
Qtrade marked its beginnings as a small yet promising startup in 2000. Since then, it has quickly become one of Canada's largest online brokerages.
It has evolved into one of the go-to platforms for investors because of:
its innovative use of early-day technology
the bubbling dot-com market
However, Qtrade in Canada has continued to stay ahead of the curve by reinventing and upgrading its technology. Moreover, expanding its range of products and services and offering competitive fees. Even in today's digital age, it still stands out as one of the best in the business, ranking among the likes of Coinsmart and Netcoins.
It's owned by Aviso Wealth, one of the largest Canadian independent wealth management firms. It operates with $95 million in trusted assets and has over 500,000 clients.
Features
To stay ahead of the competition, Qtrade has packed its platform with an impressive array of features and tools. Each is designed to give you the best trading and investing experience possible.
Account Types
Opening a Qtrade account means that you get to choose from a variety of account types that best suit your needs. These include:
classic trading options, such as cash or margin accounts
more registered accounts, like RRSPs, TFSAs, RESPs, RRIFs and LRSPs
Read more:
While the former pool of account types lets you get involved in more complex investment strategies, the latter allows you to grow your wealth in a tax-sheltered environment. What you decide to go with in the end is entirely up to you.
Security Measures
The service only supports browsers with 256-bit encryption, which is the industry standard. So, your Qtrade investor account is well-protected against the prying eyes on the internet.
Since it is part of the Investment Industry Regulatory Organization of Canada, it uses digital certificates from trusted third-party institutions.
Furthermore, the powerful firewalls set in place are also constantly being monitored by the Qtrade team, so you can rest assured that your data is in good hands.
Two-factor authentication is also available, giving you an extra layer of protection against online threats. The code is sent to your registered mobile device, so even if someone manages to get ahold of your password, they won't be able to log in without the relevant digits.
Portfolio Analytics
It is essentially a snapshot of all your investments in one place. Qtrade's Portfolio Analytics feature gives you an in-depth look at:
how your current holdings are performing
how they've been doing over time
The data is sifted through domestic and global benchmarks to help you check how well your investments are faring. This information can be a reference point for future investment decisions and risk-mitigating strategies.
Questrade offers a similar range of investment and research tools designed to improve user experience. You can get free, real-time market data information through their website and make classic or advanced order types for stock transactions. Both features can help you assess your progress and improve your trading.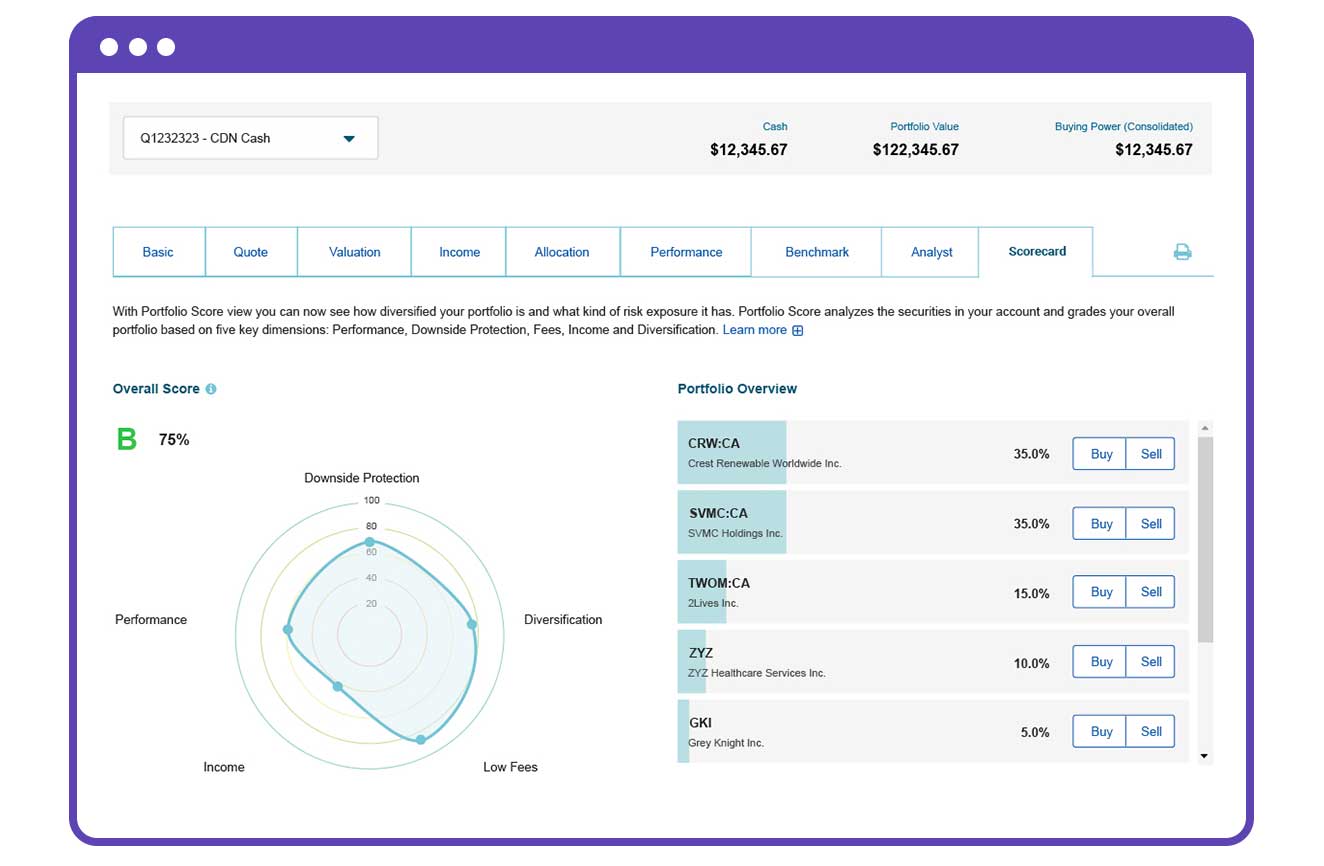 Multi-Currency Trading
The brokerage supports multiple investment types, including:
stocks
ETFs
mutual funds
bonds
GICs
options
New issues
Some of these products are better suited for long-term growth, while others are ideal for short-term speculation. If you want greater flexibility and more options in terms of trading, Coinsquare offers a whopping 40 currencies to choose from.
Depending on your investment goals, you can handpick the products that will give you the most bang for your buck. Moreover, the Qtrade asset management team is also on hand to provide recommendations if you need a little extra guidance.
User-Friendly Interface
Having a platform that's easy to use is crucial, especially if you're a first-time investor. The Qtrade app's intuitive design and layout make it easy to find what you're looking for, whether it's your account summary or the latest market news. Qtrade ranks at the TOP of Canada's online investing platforms, with an admirable trading experience from both desktop and mobile.
Regarding other platforms' dedicated trading apps, Shakepay presents itself as a strong contender. Its simple and easy-to-use layout makes the overall user experience relatively straightforward and enjoyable.
Promo Offers
If you open a new account using the code BONUS150 and transfer at least $1.000 by Jun 30, 2023, you'll get up to $150 sign-up bonus.
Offer details:
Get a $50 sign-up bonus for each opened and funded account (up to max $150 bonus)
Within 60 days of the account opening date each qualifying account must have:
Minimum account funding of $1,000 originating from outside of Aviso/Qtrade (net new assets)
Net new assets must be within each qualifying account (deposits that are split across multiple accounts are not calculated into the asset total for payout)
The asset level in the account on the date and time of first trade submit will be used to determine offer eligibility
1 filled qualifying trade or more
Each qualifying account does not need to be funded and traded at the same time, so long as criteria is met within first 60 days. For example, one account can qualify sooner than another account.
Bonus Payout
The sign-up bonus will be paid within 60 days of meeting all offer criteria (e.g. within 60 days of making first trade, so long as account was funded with minimum $1,000).
The sign-up bonus will be paid into each qualifying account.
Complete T&Cs you can find here.
These kinds of promotional offers are pretty common in the digital trading industry. For instance, nDAX gives its users an automatic $10 bonus when they sign up with a valid referral link and deposit $100 into their account. Though not exactly on the same scale as Qtrade, it's still a worthy consideration.
Qtrade Pricing and Fees
Transparency is crucial in Qtrade fees, as they're laid out on the website. You won't have to worry about being blindsided by any hidden charges down the line. The main prices are determined based on your Qtrade contract. So, there are two options:
Basic Investor plan
Investor Plus arrangement
| | | |
| --- | --- | --- |
| Investment Type | Investor | Investor Plus |
| Equities | $8.75 | $6.95 |
| Options | $8.75 + $1.25 per contract | $6.95 + $1.25 per contract |
| ETFs | $8.75 | $6.95 |
| Mutual Funds | Free | Free |
| Fixed Income or Exchange-Traded Debentures | $1 per $1.000 face value ($24.99 min/$250 max) | $1 per $1.000 face value ($24.99 min/$250 max) |
Additional fees may be charged, depending on the contract you have. Some services are generally free for other platforms, such as CoinSmart.
However, you're expected to cover these expenses if you want to use the Qtrade service. But, these are only applicable if you make use of certain features or services, including:
| | |
| --- | --- |
| Service | Fee |
| Administration Fee | $25/quarter |
| Account Closure | $100 in the first year only |
| Account Transfer Out | $150 |
| Electronic Statements and Confirmations | Free |
| Swap | $45/security |
| Credit Sell Out | $20 + phone commission rate |
| Dishonoured Items | $40 |
| Investigative Account Inquiries | $50 per hour ($50 min) |
| Cheque Requests | $10 per cheque |
| Estates | $250 min. |
Moreover, you'll be charged interest fees on various investment types. While some are avoidable, others are necessary for the investment process.
The Canadian prime rate comes in at 3.70% as of June 202.
Investment Type
Rate
Margin Account
Prime + 1.55% for $0 – $99.999

Prime + 1.50% for $100.000

Cash Account
21%
Registered Account
21%
Lastly, you may be eligible to receive 100 commission-free ETFs through the Qtrade website. To qualify, you need to hold the relevant ETF for at least one business day from the time of purchase. You're also required to sign eDocuments as statements and confirmations.
Eligibility and Account Opening Process
You're expected to be of legal age in your province or territory of residence and a permanent Canadian citizen to open an account with Qtrade.
The sign-up process is simple and convenient. You'll need to provide personal information, such as your name, date of birth, and contact details.
You should have:
a valid ID
social insurance number
e-statements of your income
assets
net worth
The platform uses these details to verify your identity and assess your eligibility.
Though ID and social insurance verification are standard for platforms of this type, you likely won't need e-statements of your income, assets, or net worth to apply for other services, such as Coinberry.
Once you've completed these steps, the service will send you a four-digit confirmation code to your email. You'll need to enter this code on the website to activate your Qtrade account.
The process takes approximately 15-20 minutes, after which you can start funding your account and trading. You may be asked to supply additional documentation if the platform cannot verify your identity using your provided information.
Is Qtrade Safe?
The service is generally seen as being safe and reliable. It's a member of the IIROC (Investment Industry Regulatory Organization of Canada) and the Canadian Investor Protection Fund (CIPF). So, it's subject to strict rules and regulations, which help to protect investors from fraud and other financial crimes.
The platform uses state-of-the-art security measures to protect your personal and financial information from being accessed by unauthorized individuals. All sensitive data is stored on servers that are located in secure facilities.
User Interface and Customer Support
Users can easily navigate the service's website. It has a clean and straightforward layout. All sections are clearly labelled, so you should have no trouble figuring out where everything is.
You can contact the Qtrade customer service via email or phone if you need assistance. The physical address is also listed on the website if you need to send any correspondence by post. The interface is similar to Coinberry, with the option to choose how you want to contact the team.
They also have a comprehensive FAQ section covering a wide range of topics. Moreover, the educational blog has exciting and helpful trading tips from the Qtrade advisor boards.
Want to Consider Other Options?
Even though Qtrade is an excellent platform with plenty to offer, it might not be the right fit for everyone. Whether you're looking for something with lower fees or a more diverse range of investment products, you'll have no shortage of options.
Netcoins is a Canadian cryptocurrency trading platform allowing users to buy and sell digital currencies using several payment methods. Its well-designed website is easy to navigate, while the fees are very reasonable.
The service has no funding fees for Interac e-Transfers, bank wires, and crypto deposits. You can start trading almost instantly after setting up your account, which only takes a few minutes. You can also monitor your portfolio and set limit orders to help automate your trading strategy.
Next up is another famous Canadian investment platform called Questrade. It offers various products, including stocks, ETFs, options, and cryptocurrencies.
The company boasts low commission fees and free-transfer arrangements for its users, providing them with considerable savings. Its self-directed investing program is also very comprehensive, while customer support is always available to help with any issues you might have.
Coinsmart is a good choice for those looking for an easy way to invest in digital currencies. It offers a wide range of cryptocurrencies and a minimalist interface.
On the other hand, Qtrade offers more traditional investments. Its platform may better suit those already comfortable with trading stocks and ETFs.
Unfortunately, account options are more limited on Coinsmart. So, it might not be the best choice for investors looking for active trading or wanting to hold many different assets. But, there's no doubt that both platforms have much to offer. It's essential to consider your needs before deciding carefully.
Final Verdict
In the end, Qtrade is a good choice for Canadian investors looking for reliable and easy-to-use service. Its relatively low fees, admirable security measures, and diverse investment options make it a platform worth considering.
FAQ
Does Qtrade have a minimum deposit?
As listed in the Qtrade review above, there's NO minimum deposit requirement.
How do I open a Qtrade account?
Signing up for an account is relatively simple and can be done online. You'll need to provide some personal information and have e-statements of your income, assets, and net worth nearby.
How old do you have to be to open a Qtrade account?
You must be of legal age to use the platform in your province or territory of residence.
Is Qtrade available in Canada?
Yes, the service is available to Canadian citizens and residents.